« Return to Main News Page
Pete Guinosso Bali Retreat Coming Up
Share Article:
4.23.2013
By Judy Tsuei, Managing Editor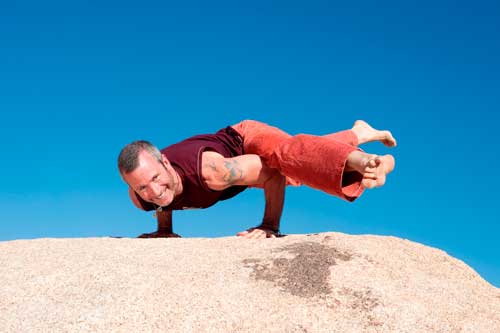 As an e-RYT 500 (Experienced Registered Yoga Teacher) with countless hours of living yoga expertise, Pete Guinosso is a San Francisco-based instructor widely known for his ability to cultivate community wherever he goes and this summer, he'll be going international.
On May 6th, 2013, Pete is leading a retreat to Bali in a place not only picturesque, but also inherently spiritual. "I've been doing retreats since 2008, and this'll be my second retreat in Bali," Pete shares. "I love being able to take adventures with my students — it creates a stronger spiritual practice, especially connecting to new communities. One of the best things about retreats is the community you become a part of."
Participants will be able to spend a week with Pete lighting up one's spirit in vigorous and deep asana practice every morning overlooking lush tropical gardens. Afternoons are open for relaxation or adventure in the nearby town of Ubud, followed by evenings reconnecting with the retreat community through chill sunset flows, dinners, and local surprises.
Produced in partnership with
Yoga Tree San Francisco
, the retreat will take place at
Villa Gaia
between May 6-12 and includes lodging, 2 daily yoga classes, breakfast and dinner, sauna, as well as transportation to and from the airport. For the adventurous set, there are nearby monkey forests, snorkeling, and tasting of eastern flavors.
"Everyone in Bali is so sweet. You see them setting out intentions with gifts offered on the streets in the mornings and the evenings. It's powerful to see how other people approach spirituality," Pete imparts. "This time, we're planning on visiting more sacred temples and sharing in ceremonies that create amazing opportunities to step out of the pressures of daily life to find more clarity."
Pete's teaching style is designed to create a fluid practice of meditative movement inspired by his training with renowned teacher
Ana Forrest
. With a belief that vigorous poses are a pathway to helping us overcome self-imposed limitations, Pete guides students to overcome any difficulty that arise both on- and off-the-mat.
"I've always been an athlete — a wrestler, cyclist, marathoner, triathlete — and I found yoga as a way to work through and open tight spots. Then, it became a spiritual practice for me. As a teacher, I recognize how powerful the physical practice of yoga can be. When you practice enough, it shifts your perspective, it changes you. It changes all around you."
Most importantly, Pete believes in "lighting the path" to help others bring light to darkness and hopefully do it with a smile along the way. Inspired by numerous poems that he can quote from memory, Pete shares from one of his favorites by Joan Borysenko, "You are at my side, dear friends, and God is everywhere. Yet, ultimately we are alone, making our way home by the candle of heart. The light is steady and sure but extends only far enough to see the next step. Many times the light seems to go out. But another light, one held by a stranger or friend, a book or a song, a blackbird or a wild flower, comes close enough so that we can see our path by its light. And in time we realize that the light we have borrowed was always our own."
He aims to provide a space for every individual to connect into their own light. Yoga helps to brighten us up, so that we can recognize our own light and heal through this practice.
His playful nature, joyful energy, and sense of humor all come across with one of his lighthearted initiatives, Yogi Pranksters, similar to the Occupy Movement in San Francisco. Pete hangs out on the street with a sign offering free hugs, or he hands out Smile Cards and Free Hug coupons.
"The most important part of the peace process is a smile," Pete believes. "The most important part of the process is a smile for ourselves. And, the closest space between your heart and others is a hug."
While the approach to many of his endeavors is sweet, the underlying message of Yogi Pranksters and his overall teaching as of late is focused on depth, especially with his "Alchemy of the Heart," where one practices gratitude and forgiveness, two powerful forces in his own life as of late.
"I find myself forgiving myself for things I've done in the past. I see these elements interacting with my life now."
Pete always speaks genuinely from the heart and as Bali approaches, he looks forward to a retreat filled with an exploration of self, community, and fun.
"There's a quote by Nietzche, 'I would only believe in a god who could dance.'" And, with a playlist that includes LMFAO, that's indeed what will happen in Bali.
To participate in the upcoming Bali retreat, book
here
.
On The Road
11.20.2013

Marianne Williamson discusses her decision to run for congress in this recent interview with Women For One. Read More...

11.18.2013

Zen master Thich Nhat Hanh spoke at Stanford University in mid-October as part of his 2013 tour of North America. Watch the HD video here. Read More...

10.15.2013

The Rainbow Tribe Gathers in Utah this weekend at the annual Festival of Colors. Read More...
More News...